The Wins Just Keep On Coming.....
I was just notified by e-mail that Makenna has won another contest on Pet & Pamper Me check it out!
http://petandpamperme.com/index.php?customernumber=631913576931670&pr=Pet_Of_The_Month
She is also Paw Luxuries February contest winner!
Here is part of the e-mail I received:
Photo Contest Winner - February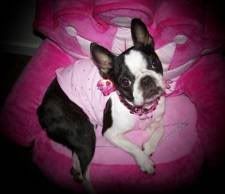 Contest Winner Makenna is one truly pampered pup, you can read all about her pampered pup story in our Spring '06 issue of Paw Luxuries Magazine.
Submitted by Darlene L. View all of our February
contest winners!
Mia also has good news! She was asked to model her Curious George Sadie Sundress for Pet Flys!
http://www.petflys.com/outfitpage.html
I am so very proud of my girls!***Fashion Must Have: Lulu Pink Harajuku Dog Tee***
http://www.thepamperedpup.com/
Makenna strikes a pose in her Harajuku tee & heart doggie boots!