Valentines Party @ Titan's Kingdom
Kingdom Monthly Gathering: My Furry Valentine's Party
When: February 12, 2006 Sunday
Time: 4:30pm - 5:30pm
Express your truly unconditional love to your Furry Valentine this year in Titan's Kingdom. Walk through the "Tunnel of Love" with your sweetheart to tell everyone that you are a perfect match!
http://www.titanskingdom.com/
Well of course the girls aren't ones to pass up a good outing so I dolled them up in their cute Valentines outfits, Makenna even insisted that I paint her nails LOL!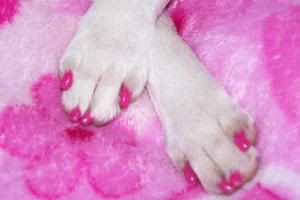 We had no choice but to leave Buddy & Tyler home as they aren't very friendly around bigger dogs & it just so happens Titan is a Golden Retriever so that wouldn't have been such a friendly meeting.
The girls were so excited when we pulled into the parking lot they knew exactly where we were.
Makenna: Daddy hurry up & get me out of this car seat!
Mia: Mommy help me! Makenna's squishing me!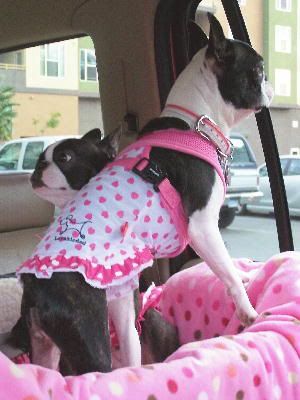 I'm telling you Makenna has used her agility experience for evil LOL!
Ok Mia here's the plan....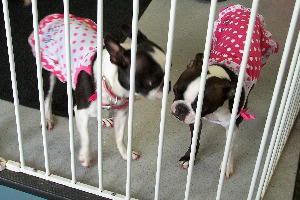 ...you go that way & I'll go this way! I'm sure one of us can find a way out!
Forget it! I'm making a break for it! I'll just jump the stupid gate!
(I caught her just as she was about to jump up again!)
$30 in treats later. We deceided to leave....thank goodness the party was only an hour it was getting a little crowded & warm. The girls were pooped anyhow...like they say "A tired Boston is a good Boston" LOL!
The girls napping on the way home.
***Fashion Must Have: Loveable Dog Tank Dresses***
Mia posing in her dress.