No Girls Allowed.....(that means you Makenna & Mia )
I know it's been quite some time since I've posted a new blog, my creativity has been wearing thin these days LOL!
Well I was going through some photos I took during this past weekend & I came to realize my boys Tyler & Buddy are just as photogenic as Makenna & Mia although that's where the similarity ends. Tyler cannot for the life of himself sit still for more than 2 min. I kept telling him to sit while I held a piece of horribly smelly freeze dried liver in one hand & trying to snap a picture with the other trust me its tricker than it sounds! Every time I backed up Tyler would walk up to me & sit I must have looked like a crazy woman arguing with a dog. Andrew was getting a kick out of it because from inside the computer room all I heard was chuckling GRRRR!!!
Here are some pics. I managed to take take:
Tyler the "petrosexual"....David Beckham eat your heart out LOL!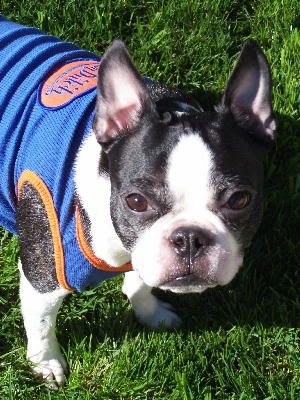 Working the camera for all its worth!
Buddy on the other hand has to be the most sedate Boston ever! He's life consists of sleeping, eating, playing with his Kong, snapping at Mia to leave him alone, napping, sun-bathing & sleeping. Yep, he's pretty content with the simple life LOL! BTW, have I ever mentioned that he loathes wearing clothes?! Can you believe it...out of the four "Brats" he'd rather go "au naturale" he will act a fool if I put any sort of article of clothing on him other than his Puppia harness. Andrew has told me repeatedly that it's inhumane to coax him into wearing clothes though I might add for the record Tyler the "flamboyant wonder-brat" is
his
dog....go figure! Buddy will sit & stare at the floor until I remove whatever he is wearing so I reserve the right to only dress him up on special occasssions. I suppose I should be content with that LOL!
Here's some pics. of Buddy:
Did I wake you Buddy?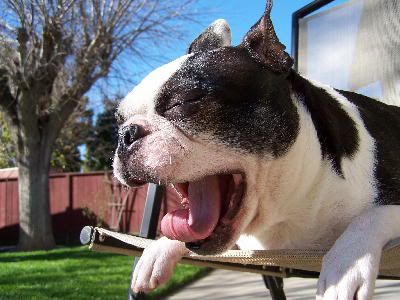 Oops! Sorry! Can I just take one photo? If looks could kill I'm guessing I'd be dead right about now LOL!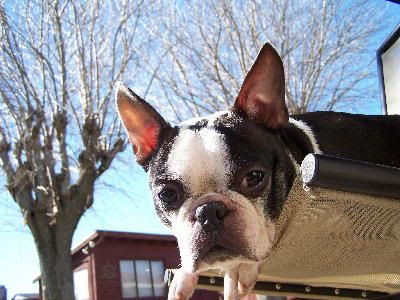 Buddy ignoring...errr... posing for the camera!
***Petrosexual Tyler's fashion must have:
Ecko hoodie sweatshirt
***
http://www.shopecko.com/cgi-bin/frontrunner.cgi?ri=111&rc=ECKO&rs=T&ro=T&pln=PT&pid=PETS&pm=PET+PRODUCTS&sid=15603&whs=GRR&bu=0&ki=&ctc=3