Making Out Like Bandits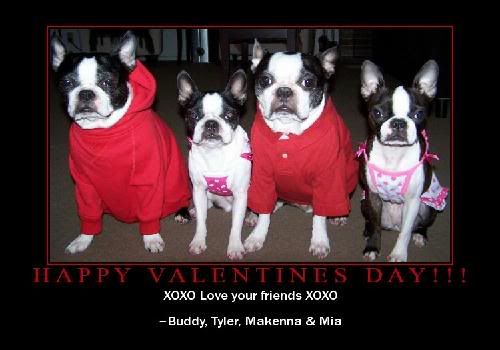 If I haven't said it before I'll say it again...these turds are going to drive Andrew & I into the poor house!
The sad part is it's our very own fault for allowing them to have whatever is they want without any second thoughts. Valentines day was no exception! They guys had a wonderful one from the extra special breakfast to the gifts...who on earth spoils their dogs this much? I have only encountered a few of the "elite" as I call them who shower their fur-babies relentlessly. In some sick envious style it's my way of keeping up with the Jones' that or I just really need an intervention pronto LOL!
Here are some pics. form Valentines day
The Brats ready to open their presents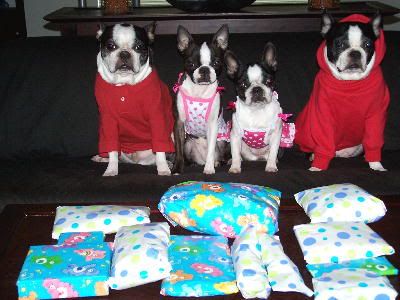 The "bullies" opening the presents as the boys look on
Makenna being the "Queen Bitch" she knows she is....poor Buddy!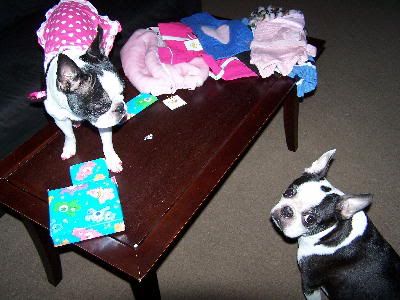 A pic. of the goodies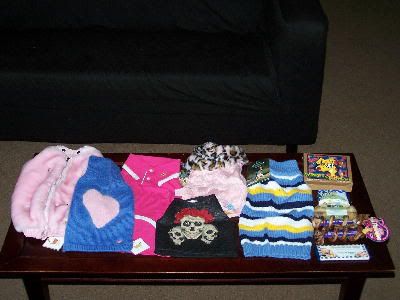 Andrew & I left the "Brats" with their babysitter Uncle John while we went out to dinner. If you live in the Bay Area you MUST try McCormick & Kuleto's Seafood Restaurant at Ghirardelli Square...the food is fantastic & A+ for the wonderful service!
***FASHION MUST HAVE: Kwigy-bo appareal***
http://www.kwigy-bo.com/flash.html
Here are Makenna & Mia showing off what they've got!